L.L. Bean, Nordstrom, and Zappos have three things in common, which you should emulate for your own photography business.
Before you call me crazy, bare with me, and think outside the box.
When you think of those three companies, what is the first thing to come to mind?
If you have purchased from any of those stores in the past, you have likely experience some of the best customer services from a store. Each of the companies offers return policies unrivaled by so many other businesses. But there are situations where they also go above and beyond their policies and procedures. Employees at these businesses are encouraged to be a superhero. They're told to make customers happy. They're pushed towards higher happiness goals.
My first L.L. Bean exchange experience
A few years ago I purchased a Camelback water bottle. Like Nalgene bottles, the bottle was made to withstand a beating. It was made extremely well, and it traveled with me everywhere. It was even deemed dishwasher safe, in the top rack only.
After a bunch of washes, the plastic that held the cap to the bottle started melting. I didn't care so much, but my wife insisted that I brought it to L.L. Bean to test their so called awesome customer service.
To my surprise, the customer service person pulled up my order based on my email address (I get all my receipts from L.L. Bean emailed). I was then asked, "what color bottle would you like?"
I decided on a new color (blue instead of green), a new receipt was emailed, and I was on my way.
Could that have been easier? I was not questioned about how it melted. I was not given a hard time at all. It's because the company stands behind every product they sell, whether it's their brand or another.
There is no reaching over desks at Nordstrom
Nordstrom is also known for having quality customer service and an endless return policy. But one thing so many people overlook is how the cashiers treat the products purchased and how they interact with you during the process.
When checking out at a cashier desk in Nordstrom, the employee is told not to place the bag on the desk.
In fact, they're instructed to carry the bag(s) around the desk and hand it to you like it's the most valuable product on the planet. Even if you buy a pair of socks. Even if it's a keychain.
Something as simple as that goes a long way. It shows the customer that you care. It shows that you value customers. That you take pride in what you do and what you sell.
There is something elegant about being handed your purchase rather than having to pick it up off a table.
How Zappos has fun and radiates quality at the same time
I am not usually one for caring about brands. However, I believe in products from L.L. Bean for many reasons. One of which is the story I just shared above.
One of the other brands I love is Zappos, and although they do not make their products, their customer service and return policies make them worth it. I usually buy my sneakers and shoes from Zappos, but sometimes I buy other products.
Smartwool is another one of the brands I love because the quality of materials is impeccable. They're soft, comfortable and do exactly what they say they do. Zappos is one of the few companies who sells Smartwool socks in packs of three pairs. So I knew I had to buy them from Zappos. But nearly a year after buying my three-pack of Smartwool socks, one ripped in an odd spot. So I emailed Zappos to see what they can do for me. The reply I received went something like this (don't mind the redacted areas).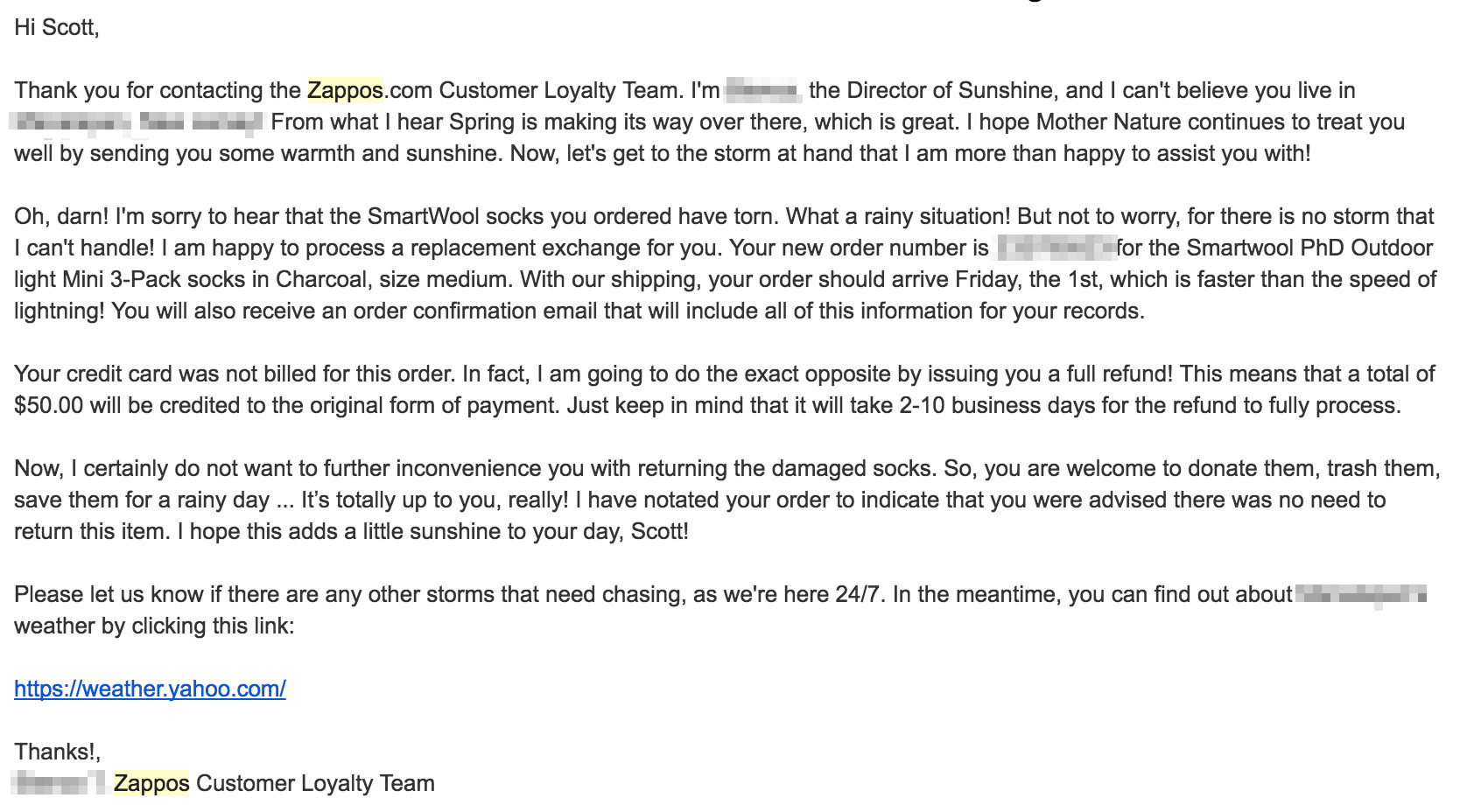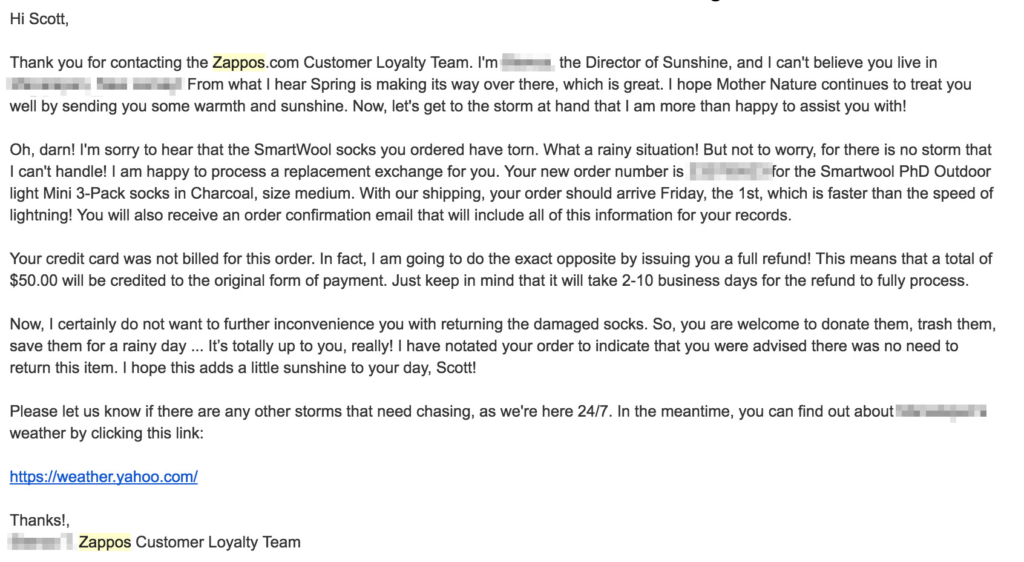 Emails went back and forth because of how much I was enjoying the playful conversation. But as I was told, a new three-pack was sent to my door a day later. A couple of months go by and another sock ripped. So I contacted Zappos customer service again, and they sent out yet another three-pack. It was either that or they send me another product of similar value. I love the comfort and of the socks too much to switch.
Zappos didn't have to go to the extent they did. They could have easily refunded me the first time and call it a day. They didn't have to replace the order the first time, and not the second time. But they did. They did because they want their customers to be happy, no matter what. They believe in what they sell, and they know that if they make their customers happy, their customers will return and spend more money with them. It's that simple.
If you would like to learn more about the Zappos methods, read the book Delivering Happiness from Zappos CEO, Tony Hsieh.
The point of this
If you are still wondering why I am sharing this with you, here goes.
These three businesses have a persona of excellence that goes beyond their standard genre of business. They are all retail stores, which sell products from various companies. But they all have customer service with the goal of customer happiness.
We, as photographers, should be doing the same with our businesses. If someone is unhappy after a session, make it right.
If you get a complaint from a client, find out what the problem is. Then find a solution. Here's a bit on that:
Just remember that your business needs to stand out, like L.L. Bean, Zappos, and Nordstrom. If it doesn't, it will fade into the collage of all the other photographers in your area.
Think about it. Think outside the box. Come up with solutions for yourself.
We do this at Imagely, go out of our way to bring happiness. It's also one of the reasons we created our photography website hosting service. Because we knew, there was pain that photographers were experiencing. Our Managed Hosting service offers end to end support for photography websites, no matter the plugin or theme in use. We are there to help photographers, and that's one of the many things that sets us apart from the standard hosting companies out there.