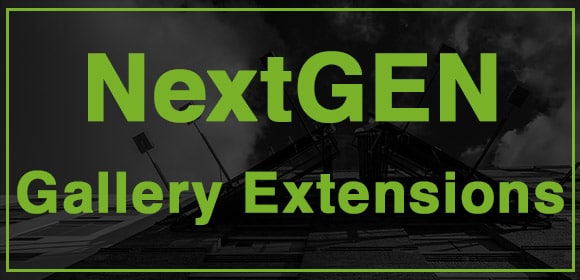 We're lucky to have a very active community of both users and developers around NextGEN Gallery, due largely to the fact that it's been the most popular gallery plugin for WordPress since 2007. Even here at Photocrati/NextGEN, we have a hard time keeping track of all the plugins that have been created or improved over the last couple years for NextGEN users. So we decided to compile a comprehensive list for ourselves. We figured we'd share it with the rest of the community as well.
If you're a developer with a NextGEN Gallery extension plugin, or a plugin that offers integration with NextGEN, and you're not listed below, please feel free to send us a not.
Jump to: eCommerce | Gallery Displays | Social Media | Optimizing | Smart Phone | Other Plugins | Third Party Integration
**PLEASE NOTE: These are THIRD PARTY plugins. We don't maintain or support them, and haven't test them ourselves enough to make recommendations. Use at your discretion, and if you have issues, contact the plugin creators.**
Plugins  with are known to be compatible with NextGEN Gallery 2.0 or later. For more on NextGEN Gallery itself, visit the NextGEN WordPress gallery plugin page on WordPress.org.
NEXTGEN ECOMMERCE
Jump to: eCommerce | Gallery Displays | Social Media | Optimizing | Smart Phone | Other Plugins | Third Party Integration
NEXTGEN GALLERY DISPLAYS
Jump to: eCommerce | Gallery Displays | Social Media | Optimizing | Smart Phone | Other Plugins | Third Party Integration
SOCIAL MEDIA PLUGINS
Jump to: eCommerce | Gallery Displays | Social Media | Optimizing | Smart Phone | Other Plugins | Third Party Integration
PLUGINS FOR OPTIMIZING NEXTGEN
Jump to: eCommerce | Gallery Displays | Social Media | Optimizing | Smart Phone | Other Plugins | Third Party Integration
SMART PHONE INTEGRATIONS
Jump to: eCommerce | Gallery Displays | Social Media | Optimizing | Smart Phone | Other Plugins | Third Party Integration
OTHER NEXTGEN-SPECIFIC PLUGINS
Jump to: eCommerce | Gallery Displays | Social Media | Optimizing | Smart Phone | Other Plugins | Third Party Integration