Wondering how you can use your website to reach your target client before they even need you? Your website is the perfect tool to do just this. Imagine a world in which your client already knows about you before they even realize they need to hire you. This is a technique that is used in lots of marketing, and it's one that photographers could consider using in their business as well.
Understand your target photography client
I'll speak to this topic from a wedding photography standpoint, but it's a technique that applies to any photographer, as long as you understand your target client and their needs.
If there is one rule that I follow in marketing my business, it's to "go to your ideal client." My target clients are busy, working professionals - usually in their late 20's or early 30's. They are all online. They are searching for wedding ideas at their fingertips, and they have little patience for a website that doesn't work and provides great content.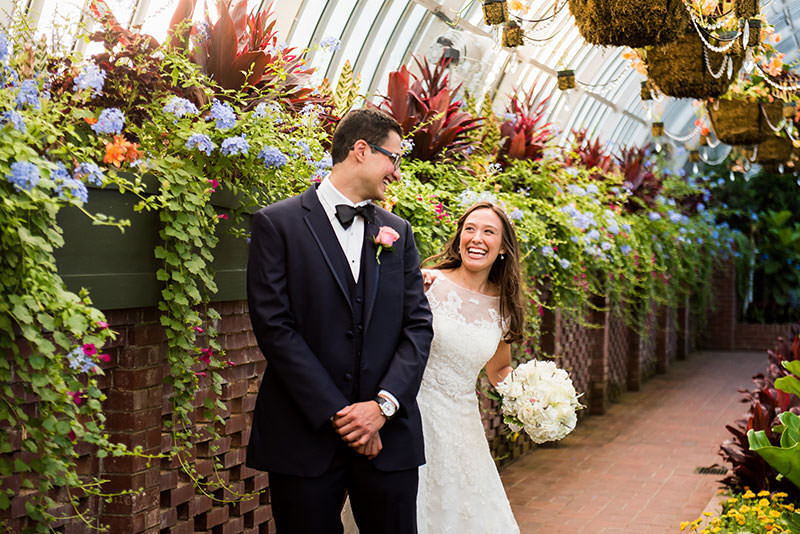 Use your website as an educational tool
Following this rule, I like to make my website much more than a simple portfolio of wedding images and contact information, so I have been working over the years to add lots of content and helpful tools for brides (and I have a lot more ideas coming, too!) Using my website as a tool to educate my ideal clients, in turn, puts my name and photography work in front of them more than a simple search for "Wedding Photographers in Pittsburgh" might. Also, I want my website to set me apart as the best and most experienced photographer in my local area.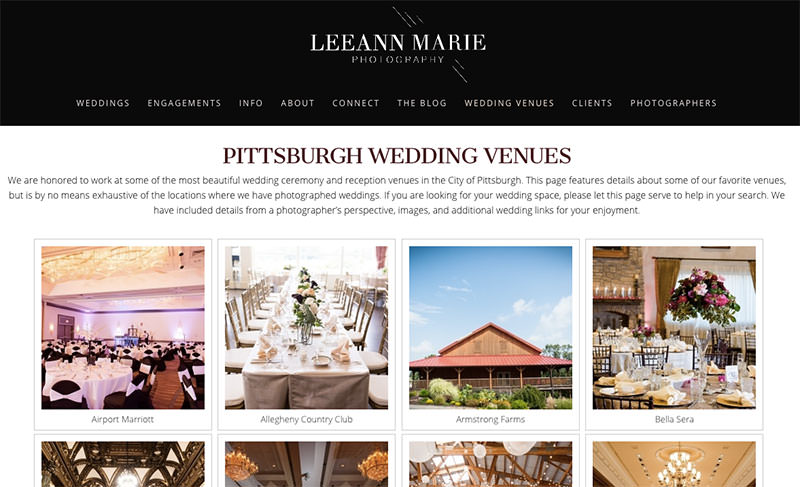 How to reach your ideal client in advance
I tap into my market before they even need a wedding photographer. I am focusing on bringing them to my website when they are looking for a venue. (And I think this technique is applicable for any photographer out there - what do they need right before they need you?)
I have created a section on my website called "Venues," where I include a NextGEN Plus album of various, specifically-chosen, venues that I have photographed. This list serves to showcase my ideal venues and connect with my target client who may be looking at a few of them. The album is beautifully presented, and SEO-friendly using descriptions and preview images.
Once a bride selects a specific venue, I have created an SEO-optimized web page that includes lots of keyword-loaded text, details about the venue, contact information, and SEO-optimized images in a NextGEN Gallery. This allows brides to learn about the spaces in an honest, informational way, while still placing my work in front of them as an expert in the venue.
Promoting evergreen content
This venue technique is also beneficial because it serves as "Evergreen" content! I use the Venues page to promote an advertisement on Facebook at the beginning of the year when newly-engaged brides are finished with their holiday celebrations and moving into wedding planning. They see an advertisement in their Facebook feed, are directed to my website and can browse galleries that are relevant to them at the point in their wedding planning. This is a way of showing them my work while removing the feeling of "direct" advertising.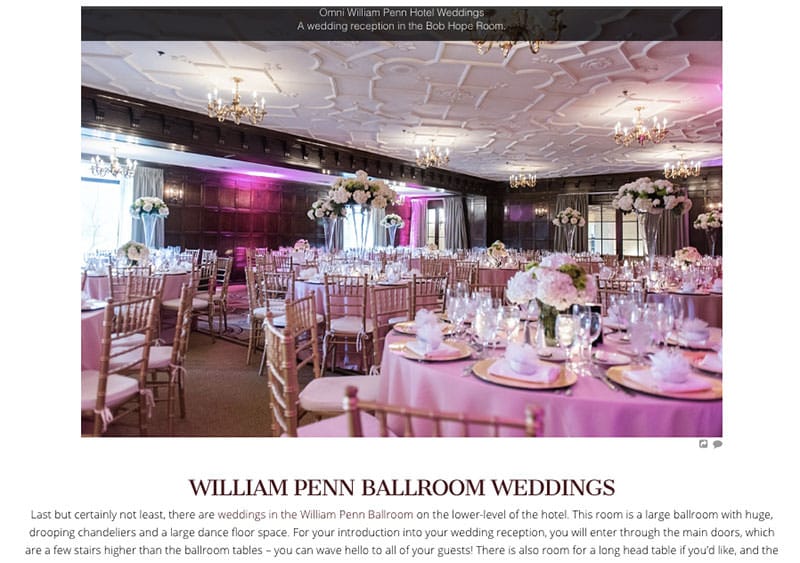 Also, I can share the page with the venue to show them how their venue is showcased beautifully on my site - promoting a mutual working relationship. Lastly, I use these pages as "Venue Highlights" throughout the course of the year, when I may be light on sessions and weddings to share.
The use of my website to bring in my target client before the wedding photography search has been beneficial to my wedding photography business - lots of brides who eventually contact me say that they have "seen my work everywhere," which is my ultimate goal. Thanks to web pages that are beautifully displayed using NextGEN Galleries and fast-loading images (thanks to Imagify), my work is reaching my ideal client when they most need it.
-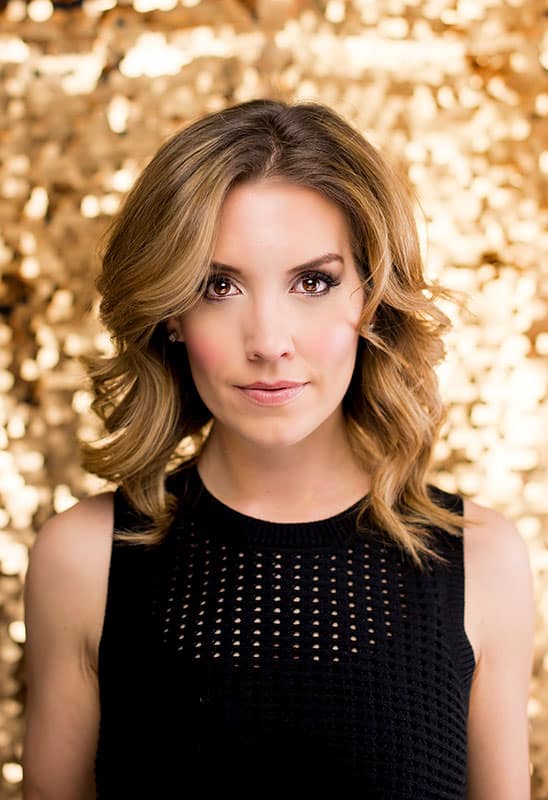 One of the leading wedding photographers in Pittsburgh, Leeann Marie has created an exclusive brand that is family focused for the cosmopolitan bride. She's a national speaker for WPPI, has been in business for nine years, and has a background in Industrial Engineering giving her a unique perspective on photography and business.
Leeann is also an educator with the Flourish Academy and enjoys working with wedding and portrait photographers to grow their business through the smart use of technology and systems.