In a creative field such as photography, a website is a smart way to display and sell your work. However, if you're not generating enough traffic or revenue, it could be that you're missing some important site features.
On a photography website, everything from how you display your images to which purchasing options you offer has an impact on your success. Fortunately, if you've built your site with WordPress, plugins can provide many of the professional-quality features you need.
In this post, we'll take a look at four key features to consider for your professional WordPress photography website, and discuss how to implement each. Let's get started!
1. Multiple Gallery Display Options to Show Your Work In the Best Light
Image galleries are arguably the most important part of your photography website after your photos themselves. Therefore, having a range of feature-rich layouts to choose from is essential.
Different types of galleries serve different purposes. For example, if you're looking to save space on a page, you might use a slideshow. On the other hand, masonry tiles enable users to see all your images at once for easy browsing.
A WordPress site with multiple gallery display options enables you to customize your collections accordingly. One way to incorporate several layouts into your site is with NextGEN Gallery:


Our plugin is a powerful tool for photographers. The free version includes five distinct gallery layouts, and the NextGEN Plus and NextGEN Pro extensions provide a dozen more. You can choose your favorite to reuse throughout your site, or display images in a variety of gallery styles on different pages.
2. Image Protection Features to Prevent Content Theft
You work hard to capture beautiful images. As a photographer, you should be properly credited and compensated for your effort and talent. This is why theft prevention is such an important feature for your photography website.
It can be incredibly frustrating to learn someone has stolen your content and is using it as their own. Unfortunately, technology today makes it easier than ever to copy and claim images, video, or text. To combat this issue, there are a few measures you can take.
First, add watermarks of your business name or logo to the images displayed on your site. There are a handful of free watermarking tools online you can use. However, to make the process even easier, you can use the NextGEN watermark feature directly from your WordPress dashboard.
Another layer of protection that can prevent theft is disabling right-click on your images. While you could use a plugin such as No Right Click Images, NextGEN Pro has right-click image protection built-in: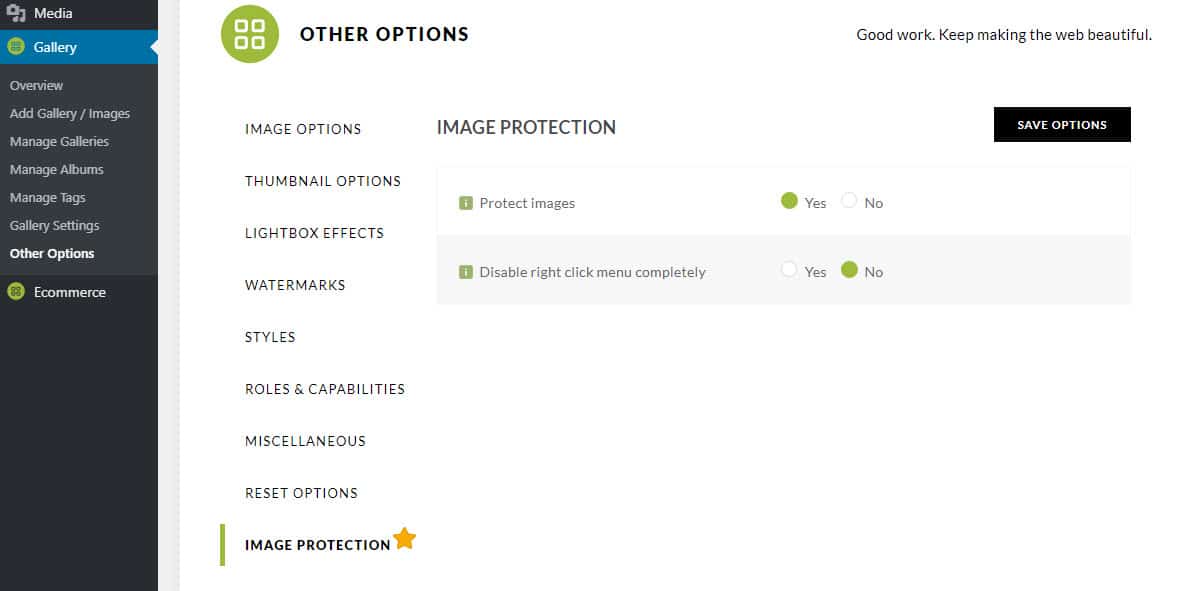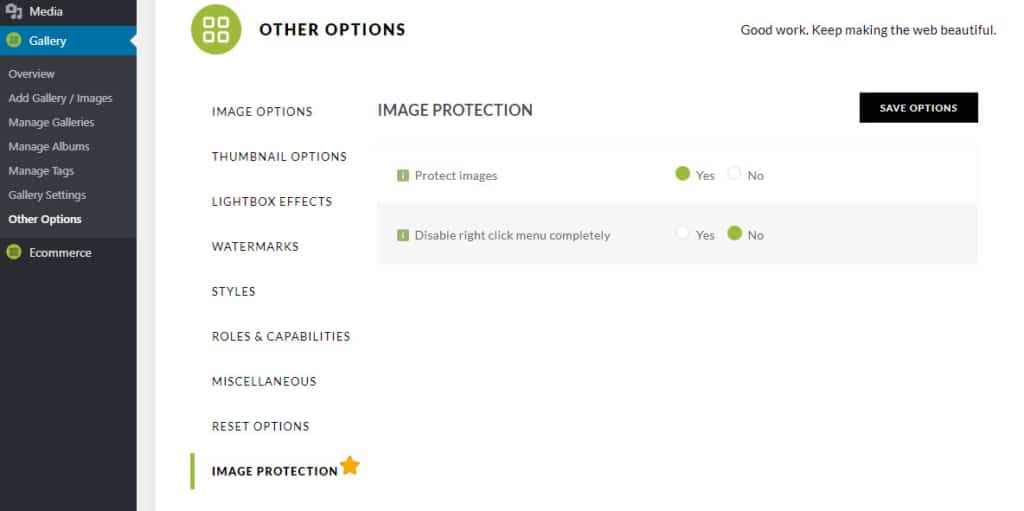 You can find this setting under Gallery > Other Options > Image Protection. Select No next to Disable right click menu completely, then save your changes. This will prevent visitors from copying or downloading your work.
Finally, you may want to consider registering your images with Copyrighted.com. The process is quick, simple, and free. Plus, it provides you with legal protection in the event you wish to take action against copyright violators.
3. Automatic Print Order Fulfillment for Simple Selling
If you're using your WordPress photography site to sell your images, e-commerce features are critical. Your website's shopping process – including checkout speed, payment options, and print format availability – impacts its User Experience (UX) and can influence customers' buying decisions.
Popular WordPress e-commerce plugins such as WooCommerce or Easy Digital Downloads work well enough for most online retailers. However, they're lacking in features that optimize the purchasing and order fulfillment processes on photography sites.
With typical e-commerce plugins, you either have to limit sales to digital downloads or print and ship the photos yourself. Upgrading your e-commerce features benefits both you and those wishing to buy physical copies of your photos.
NextGEN Pro just became the first WordPress plugin to offer automatic print fulfillment through the White House Custom Color (WHCC) print lab. This means, in addition to digital downloads, you can automatically print and ship orders from your WordPress website: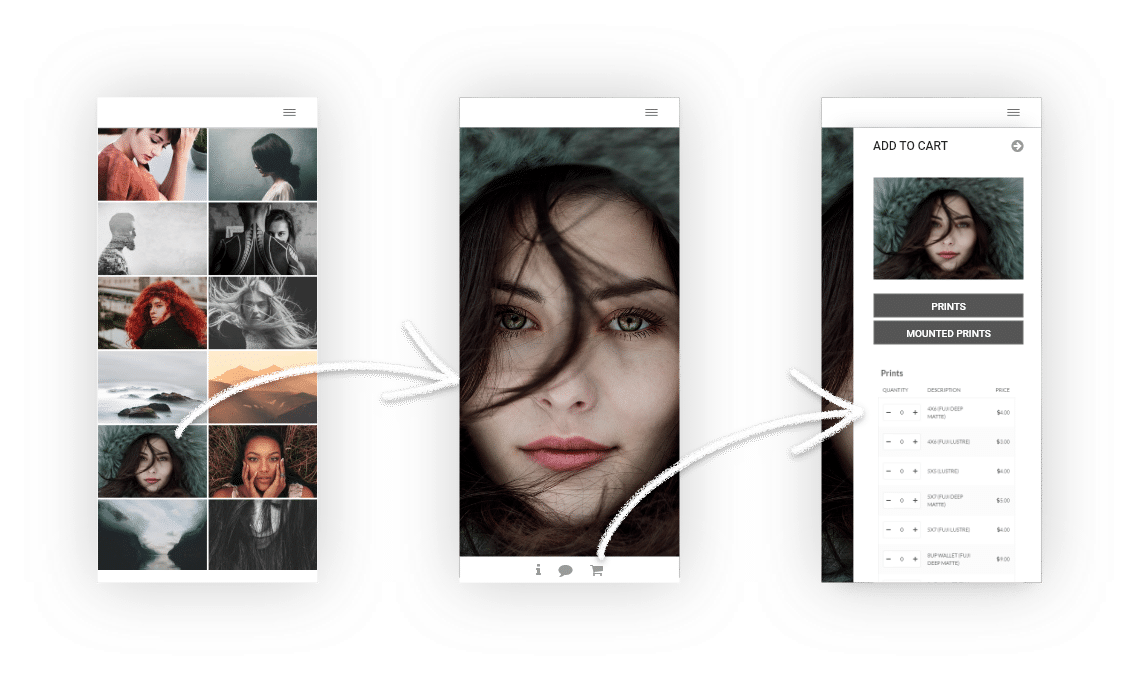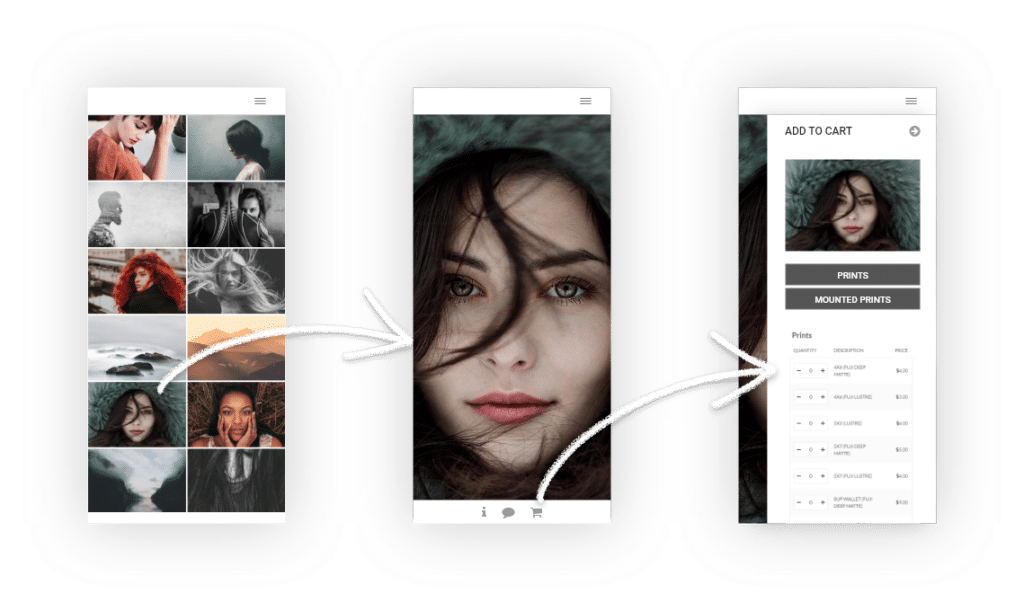 WHCC offers dozens of print formats and sends orders to your customers in white-labeled packaging. By adding this feature, you can expand your e-commerce offerings while also saving time you would otherwise have to spend managing print sales.
4. Image Optimization to Increase Site Speed
If you want your WordPress photography website to load quickly, it's important to pay attention to the size of your image files. As a media-heavy site, they could seriously drag your performance down.
Image optimization can help increase the speed of your site so visitors aren't waiting around for your pages to load. Plus, a high-performing site will likely rank higher with search engines.
We've compared several image compression plugins to find the best options for photographers. We highly recommend Imagify for optimizing your images, as it reduces file size with minimal loss of quality. It also integrates well with NextGEN Gallery: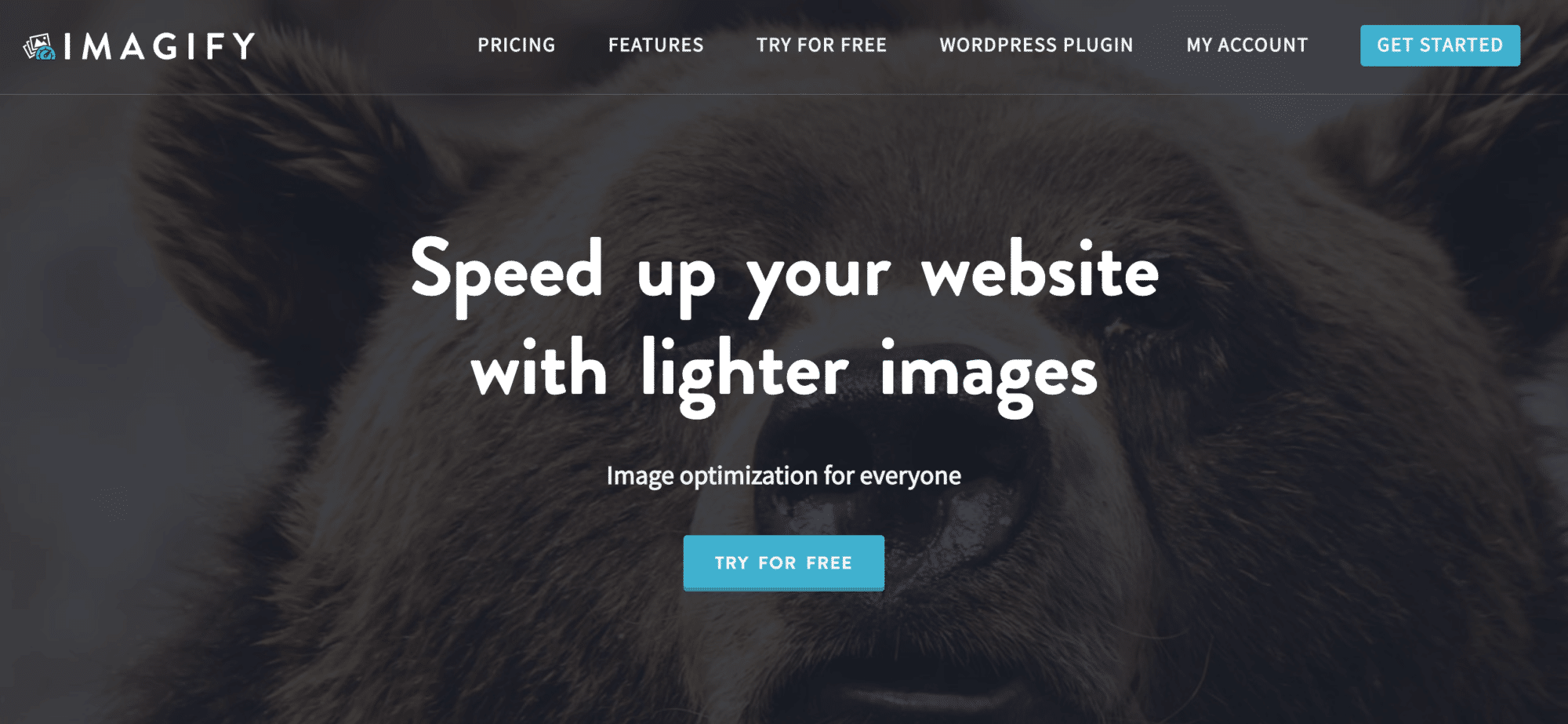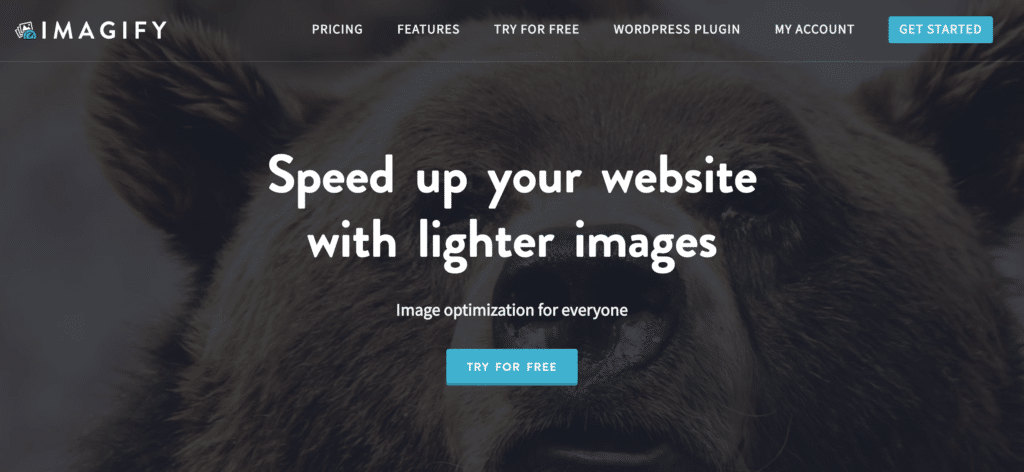 You can get started with Imagify for as little as $4.99 per month, making it a fairly affordable way to improve your photography site.
Conclusion
WordPress makes it easy for photographers to display and sell their images. However, if you want your photography site to be as professional and successful as possible, it helps to look beyond basic features and functionality to plugins such as NextGEN Pro.
As we discussed in this article, there are four key features you may want to consider for your professional photography website:
A range of image gallery options for creating different types of displays.
Image protection features to help prevent content theft.
Automated print order fulfillment to make placing and shipping orders as easy as possible.
Image optimization to increase site speed.
Do you have any questions about creating a professional WordPress photography website? Let us know in the comments section below!